Fernando Garzon
Contact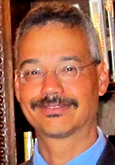 Center Director
Department of Chemical and Biological Engineering
Personal Website
Curriculum Vitae
Education
Ph.D., University of Pennsylvania, Materials Science and Engineering
B.S., University of Pennsylvania, Materials Science and Engineering
Biography
Fernando Garzon holds a joint appointment as a UNM Professor of Chemical and Biological Engineering and a Faculty Research Scientist at Sandia National Laboratory in the 1815 organization, The Advanced Materials Laboratory. He received his B.S.E. in Materials Science and Engineering from the University of Pennsylvania in 1982 and completed his PhD in Materials Science and Engineering with a focal area of Solid State Chemistry in 1988. His research interests include: the development of advanced gas sensors, fuel cell materials technology, energy storage technology, high temperature materials and devices, electronic conducting transition metal oxides, thin film growth, ceramic membrane technology, and solid state ionics.
Dr. Garzon also leads a team in the development of advanced explosives forensic technology in support of national security and public safety efforts. Fernando Garzon has co-authored over 140 scientific publications with more than 6000 citations and served as an editor for the Electrochemical Society Publication series, Solid State Ionic Devices. He is the inventor of an R&D 100 award winning high temperature combustion control sensor, and a new class of solid-state gas sensors for hydrocarbons, carbon monoxide and nitric oxides. He holds ten patents in electrochemical technology. Fernando was the 2012 Los Alamos Fellow's Prize recipient for Research Leadership, the 2009 DOE Fuel Cell Program Research Award winner, and was recognized in Scientific American's Top 50 Science and Technology Achievements for 2003.
He has also made television and radio presentations as a scientific advocate for efficient energy storage and conversion technologies. Fernando Garzon is the Past Chairman of the High Temperature Materials Division of the Electrochemical Society. He was named a Fellow of the Society in 2008, served as Vice President from 2009-2012, and is the President of the Electrochemical Society for 2012-13, Serves on the Council of Past Presidents, and is currently a member of the ECS Technical Affairs committee. He is also a member of the Materials Research Society, the American Ceramics Society, and the American Association for the Advancement of Science.
Research Interests
1- Electrochemical Energy Conversion Technology, Fuel Cells and Batteries
2- Electrochemical Synthesis Of Fuels and Chemical Feedstocks
3- Chemical Sensor Development and Sensing With Ionic Devices
4- Heterogeneous Catalysis and Electrocatalysis
5- Inorganic Ionic and Nanoporous Membrane Science
6- Nanotechnology for Energy Conversion
7- Ceramic Thin and Thick Film Materials Development
Center/Laboratory/Program Affiliations
Center for MicroEngineered Materials