Achraf Noureddine
Contact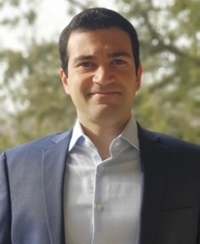 Research Assistant Professor
Department of Chemical and Biological Engineering
CMEM
Education
Ph.D. Chemical and Nano-Engineering School of Chemical Engineering of Montpellier (France) 2014
M.S. Chemical Processes Engineering University of Lille & French Institute of Petroleum (France) 2011
B.S. Chemistry University of Lille (France) 2009
Biography
Bio coming soon.
Research Interests
1- Sol-Gel Engineering of Materials: Design and characterization of mesoporous silica, organosilica, silsesquioxanes micro- and nanoparticles.
2- Nanoparticles Architecture: Control of the size, structure, pore size of porous silica nanoparticles.
3- Protocell Technology: Creation of liposomes and fusion of their properties with siliceous nanoparticles.
4- Sol-Gel 3D Printing: Design of mesoporous silica dots on optic fibers and flat surfaces.
5- Nanotechnology and Nanomedicine: cancer treatment, drug delivery, gene editing, immunotherapy, biosensors.
Center/Laboratory/Program Affiliations
Center for MicroEngineered Materials